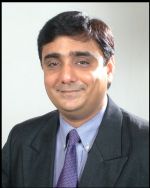 About the Presenter:


Dr. Kumar J. Doctor is a Medical Director of Doctor Eye institute established in 1964. He specializes in Anterior Segment in removal of spectacle power by Excimer laser with LASIK surgery and Cataract Removal by Phacoemulsification with foldable and Multifocal I.O.L Implantation.

He is a member of ASCRS, ESCRS, AIOS, and AIIS etc. Dr. Kumar is Ex-member of Scientific Committee–AIOS and held the post for six years from 1999 to 2005.

He regularly conducts and participates in Instruction Courses at ASCRS and ESCRS and presents free Papers/ Posters and Videos on Cataract and Lasik.

Received several awards including
1)Best Paper Award on " MECHANICAL DELINEATION IN SITU - A NEW APPROACH" a ASCRS, Boston, USA in 1997
2)Dr. Kumar J. Doctor was honored with the Merit Video Presentation Award at THE 21ST CONGRESS OF THE ASIA-PACIFIC ACADEMY OF OPHTHALMOLOGY 'APAO-2006' at Singapore
3)Dr. Kumar J. Doctor's E-Poster submitted at ASCRS 2010, received a Special Mention in Keratorefractive Category.
4)He is honored with the All India Implant and Refractive Society Daljit Singh's Gold Medal Award on 27th September 2002, presented by the Chief Minister of Maharashtra, Shri. Vilasrao Deshmukh, for his contribution in the field of Refractive Surgery.
5)Received award by Dr. R N Mishra, the president of IIRSI for his dedicated service to Ophthalmology for prevention and control of blindness
6)Recently received Best Academic Private Practitioner Award in the silver jubilee conference of MOS ( Maharashtra Ophthalmic Society).

Dr. Kumar Doctor has designed an International LASIK Training Programme at our Smiling Eyes Laser Centre. This programme is intended to support the successful integration of Laser Techniques using Schwind Technologies into the clinical practice of LASIK Surgeons. We have successfully trained eminent surgeons from Egypt, Austria, Kuwait and Jordan, and Germany for LASIK.

He has contributed a no. of chapters in textbooks in Ophthalmology.