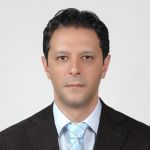 About the Presenter:


Siamak Zarei-Ghanavati, MD, received his medical degree from the Mashhad University of Medical Sciences, Mashhad, Iran. He performed his residency training in ophthalmology at the Khatam-al-Anbia Eye Center and he received the first rank award of Iranian national board in ophthalmology in 2006. Dr. Zarei-Ghanavati then completed one and a half year Anterior Segment fellowship at Labbafinejad Medical Center, Shahid Beheshti Medical University, Tehran, Iran. He achieved the first rank with "Distinction" degree of ICO (International Council of Ophthalmology) assessment (among the 1647 candidates from 61 countries) in 2007 and ICO-Helmerich Fellowship was awarded to him for advanced training in cornea in 2010.
Dr. Zarei-Ghanavati is currently an international fellow of Cornea and Refractive surgery, at the Jules Stein Eye Institute, UCLA, Los Angeles, USA. After the completion of his fellowship, Dr. Zarei-Ghanavati, will return to Mashhad University Medical Sciences, Khatam-al-Anbia Eye Hospital, Mashhad, Iran.