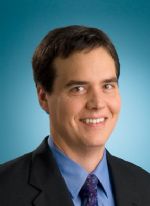 About the Presenter:


ROBERT J. NOECKER, MD, MBA
Vice Chair and Director of Glaucoma Service
UPMC Eye Center
Pittsburgh, PA



Dr. Noecker is Vice Chair of UPMC Eye Center and Director of the Glaucoma Service at UPMC Department of Ophthalmology. He is Vice Chair of Information Technology and Vice Chair of International Affairs for the department. He is the Assistant Medical Director of the electronic health record and Director of Telemedicine for UPMC Ophthalmology. He serves on several institutional strategic and oversight committees for the electronic health record and telemedicine. He also leads the teleretina program for Ophthalmology and is Director of Glaucoma at the Pittsburgh VA hospital. He was a co-director for the first International Conference on Teleophthalmology, Pittsburgh in 2009

Dr. Noecker has conducted numerous trials on the pharmacologic treatment of glaucoma. He has also been part of studies examining the tissue effects of laser, surgical and medical treatments of glaucoma. Dr. Noecker has other research interests in developing novel surgical techniques and materials for the treatment of glaucoma. He is on the editorial board of many peer reviewed journals in ophthalmology and has lectured around the world on these topics on six continents and over 25 countries.